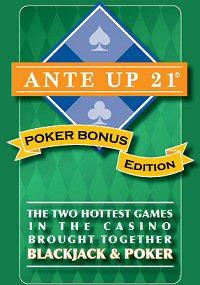 Just by the name, you might be able to figure out it is another variation that combines poker with blackjack.  The game was developed by FYI Gaming Inc and is available in downtown Las Vegas at the Fremont Hotel, as well as online at several casinos.

RULES
-Blackjack Rules
Dealer hits soft 17
Dealer checks for 21 if 10 or Ace showing
Double allowed on any two cards
Split allowed once
Double after split allowed
Insurance allowed on blackjack bet only
Surrender not allowed
Busted blackjack hands still play as poker hand
Blackjack pays 3:2
-Poker Rules
Dealer must have Queen high or better to qualify, if not the player wins even money on the ante bet and pushes on the additional bet
Only the first two cards are used, therefore only pairs and high cards play
If a player has split his cards for the blackjack play, the first two dealt cards are used for poker
A player's natural blackjack can be a win/loss/tie on the ante, but a push on the additional bet
Tie hands are a push
Poker bonus side bet is based on whether you're dealt a pair with the first two cards
Poker wins pay 1:1

HOW TO PLAY
Unlike 21 + 3 blackjack, you must play both the blackjack side and the poker side of the game.
The hand starts with the player making two bets, one for the ante or poker side, and one for the blackjack side. The bets are placed separately in the two clearly marked betting circles, "Ante" or "21".  The ante bet cannot be more than the 21 bet. There is a third betting circle for an additional side bet called the poker bonus side bet.
The players are dealt two cards face down, the dealer receives one card face down, one card face up.
The players then decide if they want to play their two cards for the poker hand.  If the player wants to play the poker portion, an additional bet must be laid out, if not, the ante bet is lost.
The blackjack hand is played out first, with each player deciding to double, split, hit or stand. Once all players have completed their hand, the dealer finishes out his hand.

Once the blackjack portion is finished, cards are left on the table and the poker portion is finally decided and payoffs made.
POKER BONUS SIDE BET PAYOUTS
This bet considers the player's first two cards and the dealer's up card.  The dealer's card is only used to determine a 3 of a kind payout, not pairs.
If the first two cards are not a pair, the bonus side bet is automatically lost.
There are different payouts based on different versions, but the range is as follows:
Three Aces of Spades: $5000 – $10,000
Three Suited Aces: $1000 – $5000
Suited 3 of a Kind: $250 – $750
Unsuited 3 Aces: $100 – $200
Unsuited 3 of a Kind: $40 – $50
Suited Pair of Aces: $25 – $30
Unsuited Pair of Aces: $10 – $15
Suited Pair: $5 – $15
Unsuited Pair: $3 – $5

FINAL THOUGHTS
I'd say it's another interesting version that combines two of the most popular casino games, blackjack and poker.  It's an exciting attention grabber, that should provide a good challenge to the top blackjack players.
MAKE MONEY NOW
If you would like your own money making website like this, I can show you how to start making money online and quit your day job. It's free to join and no credit card is required. Check it out! I WANT TO QUIT MY DAY JOB!