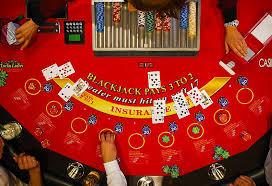 Despite the re-opening of casinos amid the pandemic, many people are still hesitate on returning to casinos for their gambling fix.
Fortunately, online casinos will still have their draw and you can get your gamble on right in the comfort of your home.  Hopefully the right cards will be the only thing you'll catch at the online casino.
Newbie Online Blackjack
First, play your normal game.  Don't rush into playing high stakes games, especially if you wouldn't play high stakes at a land-based casino.  Unless it's some unusual variation of blackjack, the rules are going to be the same as in a real casino. 
Play online blackjack to practice your basic strategy if you're not well versed in basic strategy. If you don't learn and play basic strategy well, you will quickly lose money online, just like in a land-based casino.  It will probably happen quicker online, so be careful. 
Many of the online casinos will allow you a couple free practice hands to play before betting real money, take advantage of those offers.
Strategy for Online Blackjack
Just like at real casinos, the first strategy or tip to employ is, never take insurance.  This is the biggest sucker bet in blackjack.  The only time you should consider taking it is if you are on a large bet and have 21 yourself.
Along with not taking insurance, make sure you're following basic blackjack strategy.  Playing online, at home, is a good time to practice using a strategy card and learn basic strategy.
A land-based casino usually doesn't mind you using a strategy card at the table, but some people feel a bit embarrassed by doing so and won't use one.  If you don't know basic strategy by heart, you're costing yourself money if you're not making the correct plays.
Novice players at a land-based casino are seemingly shy about doubling down or splitting cards when they should for some reason.  If you practice at home, online, you can become aware of how doubling down and/or splitting can greatly improve your profits when done at the proper times.
Final Thoughts 
I think playing online is a great way to perfect your game play. If you're worried about going to a real casino at this time, online play can give you a similar casino feel, except for the noise!
Online blackjack can also offer you many variations of blackjack that will challenge even the best of players.  If you find real casino blackjack boring, play a blackjack variant online for the challenge.
Best sites for online Blackjack: