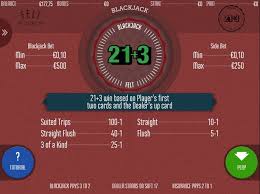 This is not so much a variant of blackjack, but a super side bet that is played. It mixes 3-card poker and blackjack together, with very tempting odds. Another variant, Player's Choice Blackjack, also mixes 3-card poker and blackjack, but in a different manner. You can check those rules here.
The game can be found in Las Vegas and online. According to Wizard of Odds, there are at least 8 different versions, based on the number of decks used and the payouts.
Rules & Play of the Game
2-8 decks used
Blackjack pay 3:2
Insurance is allowed
Double down is allowed
Splitting pairs is allowed, with 1 re-split
Can double after split
Dealer stands on any 17
+3 side bet must be played before cards are dealt
The player's first 2 cards and the dealer's upcard determine the 3-card bonus payout
+3 side bet is paid based on 3 card poker hands: Suited 3 of a kind, straight flush, 3 of a kind, straight, and flush
A hand starts with the player making a regular blackjack bet and the additional +3 side bet if they want to take that chance.
The player is dealt 2 faceup cards and the dealer receives 1 card face down and 1 card face up.
If the +3 bet wins, that is paid and play continues as in standard blackjack.
Strategy & Odds
Because it is still basic blackjack, after considering the side bet, basic strategy should be used.  There is no strategy for the +3 bet, that is definitely the luck of the draw.  Once again proving that a side bet is usually a sucker bet. In this game, taking that chance every now and then can be lucrative (up to 100:1) because how the odds vary:
Flush pays 5:1
Straight pays 10:1
Three of a kind pays 30:1
Straight Flush pays 40:1
Suited 3 of a kind pays 100:1
The above is just one payout version.  Remember to check the odds where you play, because there are at least 8 different versions available where payouts can vary.
FINAL THOUGHTS
If you're looking for a variant that will challenge you, this is NOT it. If you want to practice your basic strategy, with a chance to make a bit extra, then you could enjoy this.  Because the +3 bet is optional and doesn't have to be made, playing this variant can be just like standard blackjack. 
If you would like your own money making website like this, I can show you how to start making money online and quit your day job. It's free to join and no credit card is required. Check it out! I WANT TO QUIT MY DAY JOB!