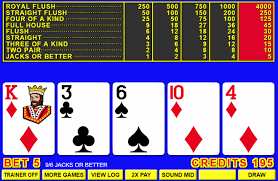 Can you have a strategy when playing video poker?  The video poker game  Jacks of Better is probably the most popular and is said to be the same whether you play it at a land-based casino or online.
With video poker games, the house edge is tied directly to the pay tables on the machines.  It's been figured out that the best Jack or Better video poker games to play are those that pay 6 coins for a flush and 9 coins for a full house.  So, you first want to look at the pay tables when you sit down at a machine (or you are looking online) to determine if those parameters  exist.  These machines are called 9/6 machines and it has been determined that the house edge with these machines can be as low as .46%, if you use a proper strategy chart.
Yes, there are strategy charts for poker, the same as with blackjack.  Basically, a video poker strategy chart has hands ranked from best to worst.   You locate your hand on the chart and follow the instructions from there.  The following chart is the "Jacks or Better Simple" developed by online guru, The Wizard of Odds.
Four of a kind, straight flush, royal flush
4 to a royal flush
Three of a kind, straight, flush, full house
4 to a straight flush
Two pair
High pair
3 to a royal flush
4 to a flush
Low pair
4 to an outside straight
2 suited high cards
3 to a straight flush
2 unsuited high cards (if more than 2 then pick the lowest 2)
Suited 10/J, 10/Q, or 10/K
One high card
Discard everything
The idea is to figure out all the reasonable outcomes for the hand and pick the hand that has the highest payoff. While that seems easy and logical, the proper strategic play is not the usual play most casual players would make.
For instance, looking at the chart, if you are dealt a High Pair with 3 to a royal flush, you should keep the high pair. That can sometimes be a difficult decision to make because most casual players figure it's always best to go for the royal flush if you're dealt at least 3 of the cards.  High cards (J-A), are usually kept because if matched, at least your original bet is returned. A royal flush is said to happen 1 every 40,000 hands.
The Wizard of Odds also has intermediate and optimal strategies to follow, that involve more detail.  You can check them out on his website.
The other basic strategy when playing Jacks or Better video poker, is to make the maximum bet.  So, you want to make sure you're playing at a machine that you can afford to do so.  If you're not playing the 5 coin maximum bet, you're upping the house edge for every spin.  Also, there is a  bonus paid for hitting a royal flush with a maximum bet.
FINAL THOUGHTS
For a strategy to be effective, you must be disciplined and diligent in using it properly at all times. It will take practice to perfect, as no strategy will work if you don't practice it.  Whether you play online or in a land-based casino, Jacks or Better video poker has a minimal house edge, which means you can probably play and make a profit if played strategically correct.