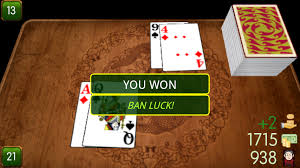 This is one of the most peculiar or fascinating blackjack variants available.  It is extremely popular in the Southeast Asia casinos.  Chinese Blackjack is also known as Ban-Nag, Ban-Luk or 21-point. Outside of Southeast Asia, you will primarily find it online, not in land-based casinos.
Principles of Chinese Blackjack
While there is no limit to the number of players allowed, it is usually played at a table with 5-6 players.  All players are playing against a dealer.
The goal is to get as close to 21 point as possible without going over, while beating the dealer's hand total.
It is played with only 2 decks of cards.  Cards are valued exactly the same as in standard blackjack, except for aces.  Face cards are valued at 10 and numbered cards are valued at their numeric value.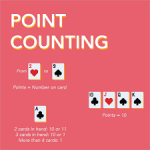 The value of an ace depends on the number of cards the player has.  If a player has two cards, the ace can count as 10 or 11.  If a player has three cards, the ace can count as 1 or 10,  If a player has four or more cards, the ace will only count as 1.
Each player is dealt two cards, face down, with the dealer being the last to receive cards.
Player Options
Here's where the fun differences begin.  While the players have the option of hitting or standing pat, there are certain hands in Chinese Blackjack that are immediate winners.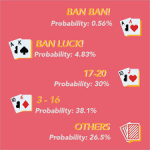 Immediate Winning Hands:
A Ban-Ban – Having two aces.  It is paid off at 3-1 immediately, unless the dealer also has a Ban-Ban, or an "escape hand" (discussed later). In the case of a tie like that, the player does not collect.
A Ban-Nag – Exactly the same as a standard blackjack, an Ace and a 10-value card.  It is paid off at 2-1, unless the dealer has a Ban-Nag or Ban-Ban.
An Escape Hand – A starting hand totaling 15.  If a player is dealt a "15," he may opt to continuing playing the hand or he may resign the hand and get his bet back.  This also applies to the dealer.  If the dealer is dealt a 15, he can opt to continue playing or resign the hand.  If he opts to resign the hand, the hand is over and the cards are shuffled to start a new deal.
A 5-Dragon – A player hand of 5 cards that totals 21 or less.  If the total is less than 21, the pay off is 2-1.  If the total is exactly 21, the pay off is 3-1.
Pairs – If dealt a pair, the player is paid double his bet
7-7-7 – If a player is dealt two sevens and gets another one after hitting, the player is paid 21 times his original bet.
If a player busts with 5 cards, the player has to pay double his wager.
Dealer Plays
The more intriguing differences start here.  The dealer is the last to act on his hand, once all players have made their decisions of play.  If the dealer holds a powerful hand, the player can easily lose big.
Except for a total of 15, the dealer must hit to improve his hand, if he has 16 or less.  With 16-20, he may "reveal" a certain number of  player hands before deciding whether to hit or stand.  Basically the dealer can check if his hand already beats a player's hand, before deciding to take one more hit.  If the dealer gets 21 without busting, the hand is done and all players lose their original bets.  If the dealer busts, all players are paid even money.
If the dealer is lucky enough to get a 5-Dragon without totaling 21, all player lose must PAY the dealer TWICE their original bet.  If the dealer hits a 5-Dragon that totals 21, all players lose and must PAY the dealer TRIPLE their original bet!  Fortunately that doesn't happen too often, or a player could go through their bankroll very quickly!
House Edge
It should be recognizable that the house holds a clear edge over the player with this game.  Because of the possibility of having to pay the dealer triple your bet, this is truly a gambler's game!  Sure, there is skill involved in playing Chinese Blackjack because you can use some basic strategy, but the house edge is still quite significant.
Final Thoughts
As you can imagine, with the unique and complex rules variations, Chinese Blackjack will challenge even the most experienced blackjack players, making it an increasingly popular online blackjack option.  I believe what makes it intriguing and popular for experienced players is that there are several winning scenarios that payout at 2:1 or better.  With standard blackjack, except for hitting a blackjack, your wins are paid out at even money. It's another great choice if you're bored with the standard blackjack game.