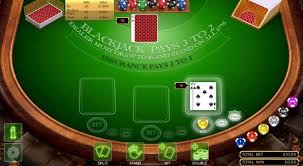 Multiple Action Blackjack has been around since 1992, being developed and patented by The Four Queens Hotel & Casino in Las Vegas. It is probably more prominent at online casinos now. The difference in this version is that the player has one hand that is played against 3 different dealer hands.
First, you will notice a different table layout in this version compared with regular blackjack.  There are three betting circles for the player and three rectangular spots marked 1,2 and 3 in front of the dealer. The rectangle spots are where the dealer will play his/her 3 different hands.
HOW TO PLAY
The player is dealt two face up cards and the dealer is dealt one face up card.  For online versions, the same face up card of the dealer is shown in all three rectangles.
The play proceeds the same as regular blackjack at this point.  The player can hit, stand, double down or split, depending on casino rules.  As rules permit, the player can surrender or take insurance.  If a player decides to split, the bet must be double the original bet. If a player decides to double down, it can be done on 1 or all three bets.  If the player does go over 21 and busts, all bets are lost.
Once the player stands with a total of 21 or less, the dealer plays his first hand in rectangle 1.  If he busts, the player receives an even money payout on his first bet. If the dealer does not bust and the player wins, the player receives an even money payout.  If the player loses, the first bet is lost. If the player does get blackjack, it is paid at 3 to 2, unless the dealer also has blackjack, which results in a push and the player's bet is returned. 
After discarding all cards, except the original face up card, the dealer plays out hand number 2, with the same rules as above.  Once hand number 2 is completed, all cards except the original face up card are discarded and hand number 3 is played out, with the same rules.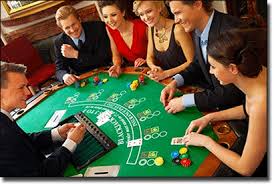 Strategy for Multiple Action Blackjack should be the same as in regular blackjack because all the rules are the same.  What changes with this version is that games are completed quicker because the player plays only once in every three games.  So, it's preferred by players who like a quicker paced game play.