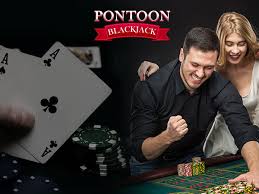 The game was first introduced in France. As in classic blackjack, Pontoon players are trying to obtain a score of 21 to beat the dealer.
It is played mostly online, but can also be found in land casinos on occasion.  Online or offline, you play against the dealer/banker. The Casino can use two and more card decks for the game, with the 10's removed, like for Spanish 21. Eight decks are usually used when playing online.
The game can be played with just 2 players, but 5-8 is best.
Pontoon Blackjack is played like conventional blackjack, but the terminology and rules are slightly different.
The dealer/banker wins all tied hands, while 'hits' are called 'twists' and to Stand is called a 'Stick'.
There are extra payouts for some hands but still very similar to classic blackjack.
Pontoon Blackjack Rules

Dealing in Pontoon
Before the first deal, one player is chosen at the table to be the banker (dealer). The banker does have the advantage in Pontoon, so the first banker is usually chosen by drawing for high card in the deck.  Players place their minimum and maximum bets before play.
Cards are dealt face down to each player, starting with the player who is immediately to the left of the banker. Everybody can look at their cards except the banker.
Card Values and Scoring in Pontoon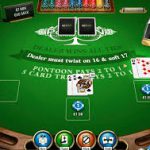 All face cards are worth ten points, while the numeric cards are their numeric value, for example the 5 of hearts is worth 5 points.  As in classic blackjack, the aces are either one or eleven.
Scoring is done by adding up the total points of your cards and not going over 21, while beating the banker's count total.  If a player goes over 21, they bust and lose. If the player and the banker have the same amount, the banker will win and the player will lose.  There are no "ties" in Pontoon. 
Pontoon Terms
As stated earlier, some terminology is different in Pontoon, compared to classic blackjack.  For instance, "twist" is used for "hit," and "stick" is used for "stand."  To double the bet is called a buy, not doubling down, as in classic blackjack.
A hand consisting of an Ace and a face card (total value of 21) is called a Pontoon.
Pontoon Strategy & Differences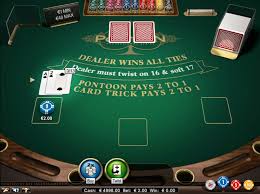 Because players have choice in Pontoon they can reduce the casino advantage to less than 0.5% by playing optimally. The complete set of optimal plays can be found online.
Not knowing any of the dealer's cards makes the Pontoon strategy a bit more complicated than classic blackjack.
When you play online, the rules can vary. For example, in most versions of Pontoon, you can only double the stake when you buy a card. As in any blackjack game you play, be sure you know all the rules before sitting down.
Once you buy a card, the banker deals you an extra card. If your hand is still lower than 21, you can buy one more card. The same works for the fourth and the fifth card.
If you choose to buy one or two cards and twist another one after that, you cannot buy more cards even if your hand value is still under 21
If you go over 21, you bust.
In classic blackjack, you can make whatever dumb move you want, like standing on 9. But that's not allowed in Pontoon. In Pontoon, you must twist on any hand that totals 14 points or less.
Finally, while insurance bets or surrender  are usually not allowed in Pontoon, the possibility to split pairs remains. When you have like value cards (e.g. two 9s, two face cards, two Aces), you can split them into two different hands.  It requires a new bet for the new hand, and then the gameplay continues as normal.  You play with one hand and then with the other. If the next card you get is equal in value to the first two, you can split again and play with three hands. Though highly unlikely, you could split up to four playable hands.
In some variations of Pontoon, online included, you can only split Aces.
Hand Ranking and Payouts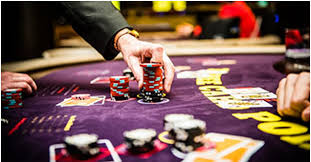 The best hand you can get when playing Pontoon is of course a pontoon. It's an ace and a face card. It beats all the other hands in the game. However if the banker has a pontoon also, it's a losing hand for the player because all ties go to the banker. There are no "ties" or "pushes" in Pontoon.  As the player, you will either win the hand or lose the hand, for sure.
Having a pontoon online pays 2 to 1. Though, it can vary depending on where you play.
The next best hand is a Five Card Trick.
If you are lucky enough to get a hand of five cards totaling 21 or less, it beats other hands of 21 made up of 3 or 4 cards. This hand also pays 2 to 1.
By default, a hand of three or four cards totaling 21 points is next best. It beats all the other hands except a Pontoon or a Five Card Trick.
If none of the above apply to the specific game, the winning hand is the one that has most points but doesn't go over 21. And that pays 1 to 1.
Basic Pontoon Strategy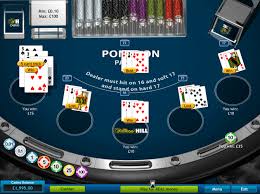 Of course there is optimal strategy for winning at Pontoon, (searchable online) however, here's a few basic tips that will you allow you to play and learn the game and not lose your shirt!
| | |
| --- | --- |
| Always stick with a total of 18 or more | Being that close, you don't want to take the risk of busting |
| With a 4-card hand, twist on 17 | Though a double bet is risky, going for the Five Card Trick is worth it |
| With a 4-card hand of less than 17, buy card (double) | You have a great chance at a Five Card Trick, which is the best when you already have more than 2 cards |
| Always split 2  Aces | Obviously gives you a great shot at a Pontoon |

To Sum Up
Pontoon is easy to learn and interesting to play. You'll find it mostly on the internet and outside the U.S.
Compared to classic blackjack, it will seem quite odd, but the differences are what makes it a challenge and worth finding a casino to try it at least once.  If you've gotten bored with classic blackjack, try Pontoon.