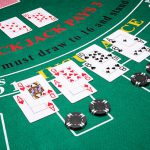 Learning Blackjack Basic Strategy
The most successful Blackjack players first learned to beat the game by using a Blackjack chart. It has been proven that there are statistically correct moves to make in game situations that increase your odds in winning the game, or making your particular session more profitable. Basic strategy is the first thing you need to know before you can start to get an edge at the casinos. Blackjack already gives you the best odds in the casino, and having the perfect basic strategy can make those odds even better. Honestly, you'll need to know more than basic strategy, like card counting, deviations, true count conversion and betting strategies (to be discussed later) to regularly beat the game of Blackjack, but with perfect basic strategy, you can play winning Blackjack.
Best Winning Blackjack Strategy
Start with one basic chart. You will find there are many "basic charts" out there and you want to make sure you haven't started with a more advanced chart that would be difficult to memorize. I have found that Blackjack playing charts can get more specialized or intricate, the more advanced you are in playing the game, so make sure you are studying charts in an organized manner. You will confuse yourself if you don't. Though some casinos will allow you to come in and sit at the table with a wallet-size strategy chart, it is best to take the time to memorize it. I know that seems like it would be hard and take a lot of time to do, it's well worth the trouble. Taking the time to perfectly learn the basic strategy of Blackjack is the first step towards winning Blackjack and beating the casinos. Your fellow players at your table will also appreciate not having to wait for you to look at your chart to figure out the correct move to make!
Best Blackjack Tips
Being able to look at your hand and immediately recall the rule in your head is vitally important. If you can play at a consistent pace (without having to pause too long to think of the correct play) it will make the game more enjoyable for everybody. I find that casino Blackjack players expect that all the players should know at least the basic strategies of Blackjack and therefore become annoyed if you slow down play at all. Some players just can't seem to wait to lose their money! Of course once you learn and memorize the basic strategy, you may find yourself at tables where you're the only one playing correctly (usually the loudest one where "friends" are there to just have fun blowing their money) and those are actually the tables you don't want to be at! Those people are relying totally on luck and that's what you don't want! I find I can totally have a great time at a relatively quiet table, winning money strategically! Don't let others force your to play faster than what is comfortable for you either. If a table seems to be rushing through hands, move to a different table. If you have the basic rules memorized, your speed of play should be adequate. Being able to play at a pace that is comfortable for you, means Blackjack success for you. Memorize the basic Blackjack chart
Basic Blackjack strategy gives you the best decision/move, as the player, given every possible combination of starting player hands and dealer up cards. The best decision for the player is the one that loses the least amount of money to the casino over time.
Advanced Blackjack Strategies
Adding card counting to using basic strategy is the most common way I've seen players turn the house edge into the players edge, or at least the lowest house edge. More people than you would think use at least some simple form of card counting while playing Blackjack. The concept of card counting is to keep track of the ratio of low cards to high cards, allowing the player to know when the advantage shifts from the casino to the player. When the casino has the advantage, minimize your bets, when the player has the advantage, maximize your bets. As this sort of implies, the use of winning Blackjack betting strategies is also important. You don't have to be highly intelligent to master card counting. It can be a very simple system to keep track of how many bad cards you've seen, in relation to good cards! It's just a matter of putting in the hours of practice to beat the casinos. Many average people beat the casinos every day using basic strategy and card counting, believe that!
Remember…
Blackjack is a simple game to learn, fun to play, time-consuming to master, but can also be a profitable past-time if perfected.