Learning to count cards for blackjack will greatly enhance your chance of a profitable session of playing blackjack and beating the casino for the evening.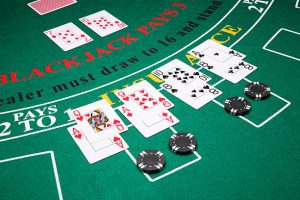 Is It Legal
Though it might be hard to get the big winners to admit to card counting, you can bet that they all use some sort of card counting system if they say they can regularly win at blackjack Card counting makes such a big difference in winning or losing that people do question the legality of it. While it is NOT illegal, casinos definitely watch for card counters and will kindly ask a card counter not to come back. They may let you enjoy the rest of the casino, but you will be banned from the blackjack tables. So, actually the hardest part of card counting is not to get caught so you don't get banned. Try not to make dramatic changes in bet sizes, so as to alert pit bosses. Even if the card count is a high positive number, control your increase in bet size so you don't draw attention to yourself. It's better to be able to come back to a casino on a regular basis, winning a reasonable amount each time, as opposed to having one killer night and being asked never to return because you won too much!
As in basic blackjack strategy, card counting is easy to learn, but difficult and time-consuming to become proficient at and master. That being said, if you take the time to do just that, it can make your blackjack sessions highly profitable for the most part.
How is it done?
With card counting, you are basically keeping track of the ratio of low cards to high cards that are left in the shoe. Contrary to popular belief, it does not involve memorization. The player's advantage is heightened when there are more high cards (10's-Aces) remaining in the shoe, so that's what a player needs to keep track of and know.
Why does it work?
If there are more high cards played in a round, that means there are more low cards left in the shoe. If that is the case, the dealer has the advantage because it is more likely that he will be able to "hit" his cards and not bust because he'll probably get a low card. If the opposite occurs, and there are more high cards in the shoe, there's a better chance that the dealer will bust if he has to "hit" his hand because he'll probably get a high card…advantage player!
What is basic card counting strategy?
The easiest and probably most used system is known as Hi-Lo. First, you want to assign a value to every card. Within the Hi-Lo system, card values are assigned as: 2-6=+1, 7-9=0, 10-Aces=-1. So as each card is dealt, you keep a running total based on the card's assigned value. With each card dealt, you either add 1, subtract 1 or do nothing if it's a 0 card (7-9). You do make sure you include the dealer's cards in the count as well. When the running count becomes positive or favorable, you'll want to increase your bet size.
True Count for Multi-deck games
With the use of multiple decks, the running count can be deceiving in terms of what is the actual ratio of high cards to low cards left in the shoe. True count is determined by dividing the running count by the number of remaining decks in the game. This is probably the most tricky part of card counting, because it does involve basic math..division! If you're at a table playing with 6 decks and you have a running count of +4 with 2 remaining decks, your true count would be 4 divided by 2, which is +2.
Using Card Counting Effectively
A card counter must watch all cards played, even the dealer's cards, to keep a running count in mind. The count is continued until a shuffle occurs or end of round. Once a shuffle has occurred, the count starts back at zero. The higher the positive count, the bigger the counter's edge, and therefore the bigger the bet size should be. With a negative or neutral running count, keep the bets minimal. Proper money management is also an integral part of profitable blackjack sessions.
Final Points
Card counting is just the ability to figure out when it is most advantageous to make bigger bets and win more money. It just makes you a more skilled player than the person next to you. A card counter won't win every time, but will win more often than not. Really good money can be made with card counting because you'll be winning with larger bets and losing with smaller bets, if done properly. You don't have to be genius to learn it either. Anybody willing to put in the necessary time to master card counting can beat the casino at blackjack.