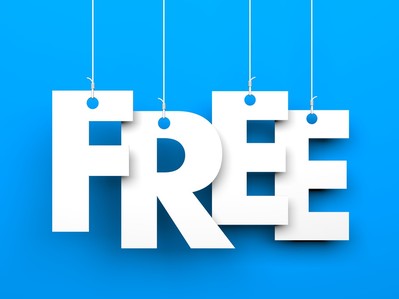 Another popular Blackjack variant is Free Bet Blackjack.  This version was created by Geoff Hall, who also invented Blackjack Switch, Zombie Blackjack and Zappit Blackjack.
The big difference from regular Blackjack is that the player doesn't risk his own money when splitting or doubling down, for the most part.  I'm sure you thinking that's great, show me where to sit!  Fortunately it won't take long to understand the rules, especially if you're already familiar with regular blackjack.

Rules
Apparently the rules have been modified since the original launch in 2012, and casinos can develop their own rules, but the following are considered the standard.
Six decks
Dealer hits soft 17's
Blackjacks pay 3 to 2
Double after split allowed
Double on two cards only
Re-split pairs up to four hands, including aces
No surrender
Three major changes from a standard game:
FREE DOUBLES – with a 2 card total of 9, 10, or 11.  The player's bet is matched with a "free bet" button and the player receive 1 additional card.
If the dealer wins, the player loses only his original bet.
If the player "pushes," the player gets back only his original bet.
If the player wins, the player get back his original bet, plus double the original bet.
  Regular doubling is allowed on all other two-card totals.
FREE SPLITS – With all pairs, except 10's, the player's cards are split into 2-one-card hands.  The player's original bet is placed with the 1st hand and a "free bet" button is placed with the 2nd hand.  Each hand is played out one at a time, (where "free doubles" and "free splits" are still allowed).  For winning hands, the "free bet" button is replaced with chips equaling the original bet. Losing or push hands result in the dealer taking back the 'free bet" button.
Dealer pushes with 22. If the player has 21 or less and the dealer busts with 22, the player's bet is a push.
Basic Strategy
Strategy will depend  on whether you playing your real money hand or the "free bet" hand.  This is because with a 'free bet," a push is just as bad as a loss.  Therefore you want to be a bit more aggressive with a "free bet" hand.  Afterall, you're not playing with your own money.
An easy thing to remember strategy-wise, take every free double and free split opportunity you can.  It's free money!
Worth Playing?
Free Bet Blackjack was accepted by casinos because they know the idea of "free money" is appealing to gamblers.  The idea is that players will make larger original bets, hoping to get the opportunity of a free double or free split and thereby win bigger.
If you are a skilled player and a card counter, Free Bet Blackjack can result in some very profitable sessions.  The question is whether or not you can stay disciplined in play and make the bigger bets, only when it's most opportune and not in hopes of hitting a big free bet.
Vegas Casino Online One of my favorite casinos to play this game because of their super blackjack bonus