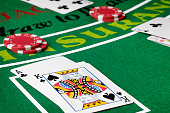 This variant offers many twists and is seen mostly in Atlantic City.  It is similar to Spanish 21, in that, blackjack pays even money and the player can double down after seeing the dealer's first card, before seeing their own card.
RULES
8 Spanish 48-cards decks are used (all the 10's are removed)
Dealer stands on a soft 17
If a player takes insurance, a dealer peeks for blackjack
Insurance payout is 5 to 2
A player has a right to double down after splitting
A player can split aces once and receive one more card
All cards except aces can be re-split 4 times (this can vary depending on the casino)
No re-doubling for this type of blackjack
A player can double or surrender any time during a game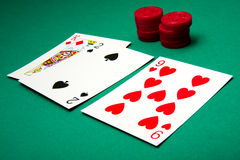 The dealer gets the first card dealt and the player can then choose to double their bet, namely, the "Double Attack."  The bet actually can be just a slight raise, but maxed at double the original bet.  If the player later splits, that bet must match the "double attack" bet.
BUST IT – Side Bet
This bet is a bonus bet in the game.  The player has the opportunity to bet whether or not the dealer will bust with 3 total cards.  This bet does have to be made before the dealer's up-card is dealt. The payout will depend on what the "bust out" card is for the dealer and is as follows:
Third card is a face card. Pays off 3 to 1.
Third card is a nine. Pays off 6 to 1.
Third card is an eight. Pays off 8 to 1.
Third card is a seven. Pays off 10 to 1.
Third card is a six. Pays off 15 to 1.
There is also a special payout if the dealer busts with 3 eights (888) and is as follows:
The eight is the same color. Pays off 50 to 1.
The eight is the same suit. Pays off 200 to 1.
Additional Bust It Side Bet
Though not typically done at many casinos, the Bust It side bet can also be made on the total number of cards the dealer busts with and those payouts are as follows:
Dealer busts with 4 cards. Pays off 2 to 1.
Dealer busts with 5 cards. Pays off 4 to 1.
Dealer busts with 6 cards. Pays off 12 to 1.
Dealer busts with 7 cards. Pays off 50 to 1.
Dealer busts with 8 cards. Pays off 250 to 1.
Best Strategy for Double Attack Blackjack
Using traditional blackjack strategy should allow for a decent return on your money. You can trust that typically doubling down on 9, 10 and 11, as well as splitting Aces and eights should continue to be your playing strategy.
When the dealer's card is low, say 2-8, is the best time to double attack.  If the dealer's up card is a 9 or better, it's best not to double.
Taking insurance in this game is slightly more favorable, because the payout is better.
Final Thoughts
While Double Attack Blackjack could be looked at as a bit more advanced, it's a fun version for many blackjack fans.  The additional rules and bets don't have to be memorized, just enjoyed. If you're want a little more excitement with your blackjack fun, try this version.

Join
shareasale.com
, Earn Cash!